Hire Full Stack
Developers
Hire the top full-stack developers in the business to keep up with the most recent technological advancements.
Get Free Consultation Now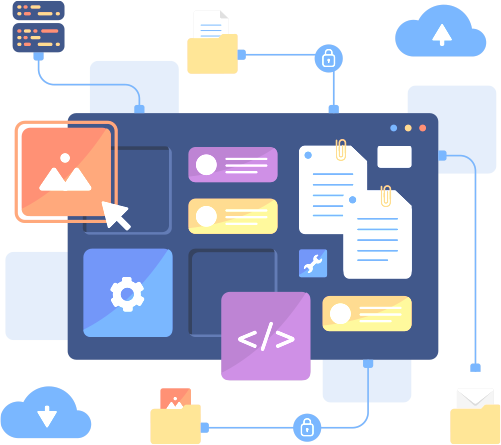 Hire Full Stack Developer For High-End Services
To our international clientele, we provide full-stack software development services. Our full-stack developers have first-hand knowledge of a wide range of tried-and-true technologies. We comprehend the needs of the business and create the front end and back end of the goods appropriately. The full stack web development team examines the many stages of software development, including databases, APIs, MVC, servers, and more.

MEAN Development
Hire a MEAN Stack developer to create unique web apps because MEAN Stack development uses the newest technologies to provide the most cutting-edge technological stack. MongoDB, ExpressJS, AngularJS, and Node.js make up MEAN. Include MEAN Stack Development to improve web application efficiency and offer value to your organization.

METEOR Development
An open-source isomorphic JavaScript web framework is called Meteor. We leverage the Meteor Stack to create fully functional JavaScript applications that are ideal for your company's needs. Our apps work on a variety of platforms.

LAMP Development
Linux Operating System, Apache HTTP Server, MySQL Rational Database Management System, and PHP Programming Language are together referred to as LAMP. We provide the best LAMP-based project development.
The Framework Used By Our Expert Full Stack Developers
Our Full Stack developers use the most advanced frameworks to create complex, content-heavy, high-traffic websites and databases. Hire Full Stack developers who are experts in engineering unique and customized solutions for your business.

Angular

Node

MongoDB
Benefits of Hire Full Stack Developer
Every stage of the development cycle must be painstakingly monitored and designed if a seamless, high-quality product is to be created. A full stack developer must have solid understanding of the complete stack development know-how in order to provide feature-rich and interactive end results. Businesses must develop a user-friendly, lead-converting, aesthetically beautiful application that best represents their services and goods. A full stack web developer offers the following services to startups, businesses, and enterprises:
Best design, development, and database management technologies
Careful and efficient front-end development
onfiguring and programming databases
Conversion of PSDs into Designs
Third-party Integration and APIs
Client-side and server-side scripting
Release of a Product with 100% Quality Assurance
Our Web Development Cycle
1
Planning
Our development process involves understanding your needs, business inquiries, analysis, and research, after which we develop an appropriate timeline and project plan.
2
Design
We design comprehensive user experiences and modern web interfaces for each custom element and functionality to deliver your brand image and drive conversions.
3
Development
We ensure that project is properly implemented from design to custom-coded website. We devise solution for converting your business query into a finished product.
4
Quality Assurance
We resolve any possible pitfalls throughout the quality assurance process, including performance testing & security endorsement, to ensure qualitative solutions.
5
Deployment & Maintenance
We optimize & deploy the configuration process. We provide continuous support and upgrades to the delivered product to provide standards and enhanced productivity.
Industries We Serve
Web development is extremely crucial for your business as it gives you a platform to showcase your offering in an engaging manner to the customers. If you are still confused as to why Hire website developers in India, let's look at some of the advantages.

HealthCare

Finance

Education

Travel

Events &
Conferences

Restaurant

Game