Flutter App
Development Agency
The DATA is a leading provider of Flutter app development services with an internal Flutter development team that is equipped to make your vision a reality. Get the greatest help from a reliable & skilled app development company by outsourcing bespoke Flutter development services at reasonable rates.
Searching for a top Flutter development company? You've come to the correct site, that's for sure. So why are you still waiting?
Get Free Consultation Now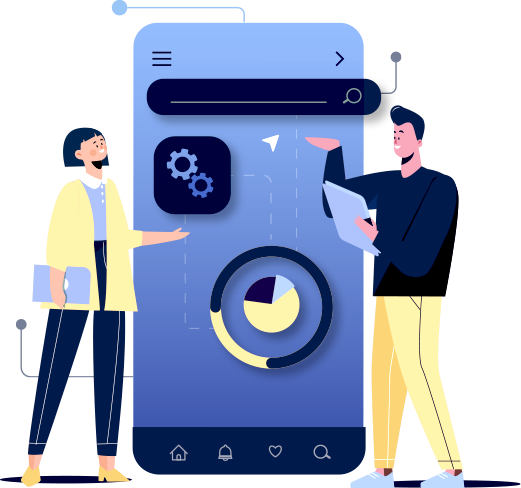 Flutter Development
Our Flutter App Development Services
The DATA is the go-to place for all kinds of Flutter App Development Services with over 23 years of IT expertise and hundreds of projects completed all around the world. For a variety of platforms in the Android and iOS app development industry, we provide specialized Flutter app development solutions.

Custom Flutter Development Services
Our Flutter app development team will adapt your applications to your demands and provide a strong solution.

Services for Cross-Platform Application Development
Leading Flutter app development business that develops cross-platform mobile app solutions that function flawlessly across several platforms.

Services For Developing IOS And Android Apps With Flutter
Get quality apps by using our Flutter iOS app development and Flutter Android app development services.

Dart App Creation
With the aid of the most recent Dart libraries, The DATA's Dart App Development Services can convert your native apps into hybrid ones.

QA & Testing Services
Our experienced team of testers, quality analysts, and mobile app developers ensures that your application is bug-free at all times.

Maintenance & Support Services
Your Flutter apps may benefit from a variety of maintenance and support services from The DATA.
Benefits of Flutter App
Development Services
Making more money while spending less is possible with Flutter mobile app development for both iOS and Android platforms. The most captivating technology that offers extensive benefits is the Flutter framework.

Multiple Packages
The Flutter framework provides a variety of packages, such as those for creating HTTP requests, Android Gradle dependencies, sensor access, Firebase implementation, and much more.

Widgets Implementation
The primary operating platforms, Android and iOS, are both used by Widgets Implementation Company to develop a variety of Flutter widgets.

Scalable Framework
By utilizing Flutter's behavior of adjusting your layout as the screen dimensions change, you can create apps with responsive designs.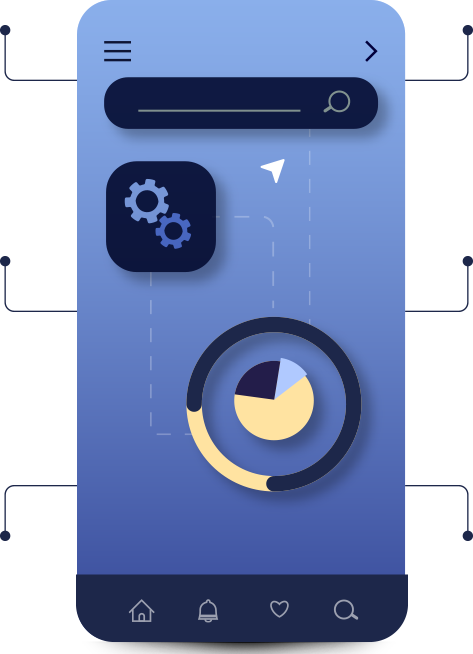 Quick Reload
Compared to previous development frameworks, Hot Reload makes it possible for Flutter programmers to examine code and development changes more quickly.

A Rapidly Developing
The entire process becomes incredibly quick and fluid using XML and Dart, making Flutter a developer's dream.

Best Performance
The Flutter apps are directly integrated into the machine code, which aids in removing any issues.
Our Process
Flutter App Development Process

Decide what you need
Please specify the type(s) and number(s) of developers you require for your upcoming or ongoing project.

Choose your team
We'll share our top picks for iOS developers with you so you can choose which one(s) to hire for your immediate or long-term project.

We create your app
Your app will be developed by the iOS developers you've chosen, who will keep in close contact with you by providing daily code validations and an updated reporting sheet.

Scale your app
You may effortlessly scale your specialized workforce up or down based on your company's needs. The advantages of working with a development team, such as updates and migration help, will still apply.

First Time Right
You may expedite the development of your app by using First-Time-Right coding, which is used by our iOS developers to achieve milestones.
FAQ'S
Flutter App Development
Stated FAQs will help you to understand more about our functioning
Flutter enables you to build multiple sorts of applications implementing new software and hardware functionalities like camera, geolocation, storage, and third-party SDKs. Further, with Flutter, you can craft 2D mobile apps too that can run both on iOS and Android platforms.
Flutter was officially launched in 2018 and is a free, open-source mobile Software Development Kit (SDK) that is used to create native-looking iOS and Android apps with the use of the same code base. Thousands of mobile apps have already made it to the app stores with the use of Flutter. Here is the list of top benefits of Flutter:
High Performance
Super Productivity
Open-Source
Compatibility
Easy and quick deployment
Expressive and flexible UI
Good Widgets
Native performance
Inter-dependable code interface
Flutter is gaining immense popularity in the market and that's the reason enterprises are opting for this brilliant framework to build their mobile apps.
Yes, for sure! Flutter is undoubtedly a startup-friendly app development platform due to the fact that there is no need to develop Android and iOS applications separately with the help of a single code base.
Yes, this is very much possible. With the help of skilled and experienced Flutter app developers, you can migrate your existing application into advanced Flutter technology to build seamless applications.
Yes, The DATA provides support and maintenance services after your app goes live. The rates we charge are also very nominal. That's the reason we are called the one-stop destination for all your tech needs.
Yes, The DATA allows you to partner with us based on your time zone preference. Our in house Flutter development team will work according to your time zone, deadline, and milestone. You can contact us to discuss concerning your requirements.
Transition at a glance
10
countries on our
global delivery map
DEVELOPMENT
Flutter App Development
From Apple Watch to iPhone select from a range of custom Flutter app development services and fulfil your business requirements with a leading Flutter app development company in India. Choose an offshore iPhone app development Company India to maintain standards for an international market and grow your business across the world!
Flutter App Development Frameworks & Tools

Android

Flutter
The voice of our customers speaks for itself
Our clients recognize us as a one-stop software development com
Read full reviews